Short History of the DeCourcy Family
<![if !vml]>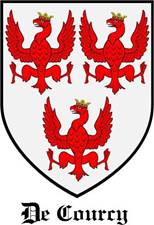 <![endif]>
<![if !vml]>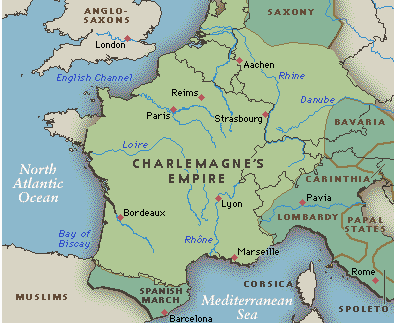 <![endif]> Many family names can be traced back to a country of origin looking back just a few generations. The DeCourcy name however has documented roots that go way back through Ireland, England, Normandy and eventually to the Carolingian Kings of France.  This noble family is one of the best documented in history. The name itself may date to 925 A.D., just a few generations after Charlemagne consolidated an empire which enveloped most of Europe. The village of Courcy in the Champagne area of France near Reims was a location near the court of the reigning monarch King Charles III. Some suggest his third son was named Charles of Courcy (DeCourcy) in reference to this location. If so, his elder brother would inherit the crown as King Louis IV. Others suggest Charles De Courcy arrived a generation later as the second son (or grandson) of Louis IV. Either way, he and his descendants were royalty, attendees at court, and contenders for the crown.
There were a number of individuals in the DeCourcy line that made their mark on history and continued the heritage and family reputation. Around the year 1000, Baldric (the Teuton) moved east to assist the Duke of Normandy in military command. His third son, Lord Robert DeCourcy established the family homestead in Normandy at Courcy, (Calvados) a few miles from Duke William's base in Falaise, Normandy. In 1066, William the Conqueror successfully invaded England with a group of royal Norman knights which included Richard DeCourcy, then Lord Courcy. Shortly thereafter, the family was rewarded with lands at Oxford and a larger estate in Somerset, England – the latter referred to as Stoke Courcy. A town remains where the family was based; its name; Stogursey, is an anglicized version of its prior form. Later, in 1177, John DeCourcy ventured from his English home to Ireland as part of the Norman invasion. He individually claimed most of Northern Ireland, building numerous castles including the massive Carrickfergus which remains to this day. A subsequent English King (King John I) becoming jealous of DeCourcy's growing power, had John DeCourcy removed and imprisoned in the Tower of London. They reconciled at the signing of the Magna Carta in 1215 and his deeds were eventually rewarded; he was given right to reclaim his lands. A generation later the barony of Kingsale (recognized as the premier barony of Ireland), near Cork was granted to his heirs along with additional titles and privileges. The Lords of Kingsale remain to this day with their titles intact. The current title holder, born in 1958, is The Right Honorable Nevinson Mark DeCourcy, 36th Baron Kingsale, (Peerage of Ireland, 1223), Baron Courcy, Baron of Ringrone, and Premier Baron of Ireland.
Because of the prominence of this family, its history is quite well documented and provides a very colorful glimpse of noble life through the middle ages. As referenced in Lodge's Peerage of Ireland, "The noble family of Courcy (Courci, Curcy, Cursie, Courcie etc) is allied to most of the Princes of Europe, deriving its descent in the male line from the house of Lorraine, of the race of the Emperor Charlemagne, who died in the year 814, and in the female line from Rollo, William, and Richard, the first three Dukes of Normandy." A document accompanies this writing provides a rich database of the lineage of the DeCourcy line with its many intermingled family connections.
Background
It should be noted that surnames as we now know them did not exist in the middle ages. First names were assigned, with a pseudo-surname(s) that might indicate a title, father, characteristic or place of birth. These might change through a (noble) person's life as additional titles were gained. Most titles, along with estates and wealth, would generally pass to the eldest male heir. Younger sons and daughters were often "provided for" by the new title holder but seldom rose to the level of the favorite son. Daughters were valuable however as power could be fostered through marriages with other notable families. Sons could hope to improve their lot through marriage as well or through military service. Power existed not so much in law as in relationships.
Charles III and French origins
<![if !vml]>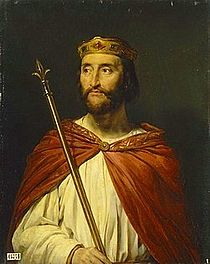 <![endif]> A few generations after Charlemagne, Charles III of France ruled from 898 through 922. He was continually challenged for the throne as he had inherited his rights as a child before being able to take up the mantle.  The intervening years provided opportunity for other royal families – who eventually succeeded in overthrowing the Carolingian line a few generations later. In history, he was often referred to as Charles the Simple, which is not an affront, but merely an English translation of what might more aptly be described as Charles the "straight-forward" when interpreted from its Latin roots. Charles signed a treaty with the Norsemen who had been attacking the northern coast of France, ceding Normandy to the new Duke along with a daughter in marriage, in return for loyalty.
With his second wife, the Princess Eadgifu of England, they bore three sons, one of whom, as mentioned, would succeed him as King Louis IV. Charles, the third son, was born in 925 during travel through the village of Courcy in the Champagne-Ardennes area of the empire, near Reims. Not being in direct line for the title, he became known as Prince Charles De Courcy and also Seigneur Charles DeCourcy as he would be granted lands in the area, a common custom.
Though the light would shine on his brother and his heirs, Charles' grandson Baldric became quite prominent some years later, marrying well and moving to Normandy to support the Duke who favored him with estates. Having lived in what is today part of Germany, he was known as Baldric (DeCourcy), the Teuton. He had six sons all of whom achieved notable levels of influence in Normandy. As his first son took on the new titles of Lord Baqueville en Caux, the DeCourcy name and new estates went to the third son Robert who established home at Courcy-sur-Dives in the Normandy area. Many believe this to be the origin of the DeCourcy name. There are also other towns in France bearing some version of the Courcy name.
 Robert's son Richard became childhood friends with the future Duke, eventually known to the world as William the Conqueror, and acted as one of his generals for the invasion of England at the Battle of Hastings in 1066. In preparation for the invasion, the knights supporting William the Conqueror gathered at the Church of Notre Dame in Dives-sur-Mer, Normandy, where their names are carved in the interior above the entrance. Richard DeCourcy was rewarded for his services with a number of lordships in England including estates in Oxford and in Somerset where he settled with his English wife. The French line continued in power from their base at Courcy where ruins of the castle remain.
England
<![if !vml]>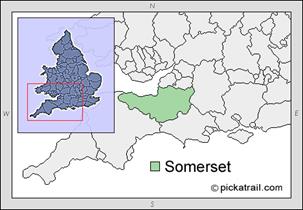 <![endif]> The Domesday book (pronounced "Doomsday"), an historical accounting of all the landholders in England, was ordered as a census by William the Conqueror after assuming the English crown. (He was the first English king crowned at Westminster Abbey). The numerous holdings of the DeCourcy family are well represented. The Somerset homestead provided some quiet years, but within three generations, we come across another second son, John DeCourcy. Displeased with his secondary position, he seeks adventure fitting his status and approaches the King of England about supporting efforts to establish greater control of Ireland. Given a free hand, he sets out for Dublin to make his fortune.
Ireland
<![if !vml]>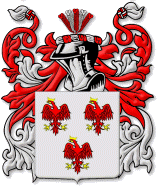 <![endif]> A power vacuum exists in Ireland upon his arrival given the recent death of Strongbow, the prominent Norman presence up to that time. DeCourcy's youth hinders his ability to garner sufficient support to challenge for local control, so he sets his sights on the northern parts of Ireland not currently under English control.  With only 22 knights joining him, (and approximately 300 soldiers), he starts his long march northward to Ulster. Given his inferior numbers, he is advised to play on the superstitions of the locals. He designs a new Coat of Arms with three birds, and rides a large white horse, adapting to a legend attributed to Merlin that a conqueror will come in this fashion.
<![if !vml]>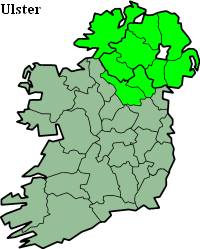 <![endif]> In battle after battle, he is victorious. This is in part due to his training and skill but also due to the far superior weaponry and tactics of the small but trained group of Norman knights. Within a few months he has conquered the lands of Ulster and Antrim in the north. He builds a castle at Dundrum (1177) and the Carrickfergus fortress (1178) near modern day Belfast. The latter, now a national museum, still stands today as an ominous symbol of his power. He consolidates his lands and marries Afrecca, the daughter of the King of (the Isle of) Man and in doing so establishes his own navy. He acquires numerous titles including Justiciar of all Ireland (equivalent to Governor) and was Ireland's most powerful individual by the late 1100's. When he begins issuing his own coinage, this defiance of English law pushes the limits of power too far. The new English king, John, revokes his titles and authorizes a rival, Hugh DeLacy, to take DeCourcy's possessions. A battle ensues and, overwhelmed in numbers, John DeCourcy is captured and imprisoned in the Tower of London – where he remained for many years. (His armor is on display there today.)
John DeCourcy elevated the status of Saint Patrick in Ireland. He was responsible for securing the relics and establishing a formal burial site with the approval of Pope Urban III. The current name of the town, Downpatrick (Dún Phádraig, "Patrick's Fort") and the association with Ireland's patron saint did not appear until John de Courcy's conquest of the town in 1177. Down Cathedral was initially built by de Courcy in 1183
Legend of John DeCourcy and the so-called DeCourcy Privilege
A legend persists, as reported in Burke's Peerage and retold in verse and many other documents including Mark Twain's The Prince and the Pauper, that John DeCourcy was later called on by the same King John who had imprisoned him. A single champion was required for England to settle a property dispute with France. The French king had sent a champion but England could not decide on any man worthy of this high stakes single combat other than John DeCourcy. The king finally agreed to this selection only to be repudiated by John DeCourcy who preferred imprisonment to fighting for a king who had stripped him of his lands and titles without honor. Finally, an independent noble persuaded John to fight for England – not its king. He took the battlefield with such force and presence that the French champion yielded and flew the field. The French king demanded a display of his fortitude and strength. With a single blow John split the shields and helmet his opponent had left behind. King John, now grateful and apologetic for his prior actions, asked what he could do for him in addition to restoring titles and estates. The request –which was granted, was that DeCourcy and all his heirs would never have to bow down (remove one's hat in tribute) to an English monarch again. This extraordinary right – effectively acknowledging the family need not be subservient to the king, became known as the unique "special privilege" accorded only to the DeCourcy family.
The legend is disputed by many, yet there are numerous references to the exercise of this special privilege and acknowledgements by various English kings, throughout history. The lands in the north of Ireland were never restored. Though John was given the right to take them back – he could not overthrow DeLacy  as he was unable to overcome the defenses (Carrickfergus) he himself had built. However, in 1223 the Barony of Kingsale near Cork was bestowed by Henry III upon John's son (possibly grandson or nephew) Myles DeCourcy who became the first Lord of Kingsale. The castle at "Old Head" (a prominent coastal point southwest of Cork – a geographical reference to "the head of the sea") became the DeCourcy homestead after 1223. (The lands known as DeCourcy Country were received in marriage by Myles to the daughter of Milo DeCogan).
Lords of Kingsale   (http://en.wikipedia.org/wiki/Baron_Kingsale)
Kinsale is an area southwest of Cork which became the DeCourcy home after 1223. (Once known as Kingsale, it is derived from Gaelic Cionn-saile meaning "head of the sea"). The Barony of Kingsale is recognized as the oldest barony in Ireland, and thus the current Lord Kingsale is still referred to as the Premier Baron of Ireland. The barony has been dated as early as 1223, but was affirmed years later (~1397) causing some confusion as to its date of origin and the numbering of the titled lords. (See http://www.courcy.com/baronyofkingsale.html) Thus, the Kingsale Lords are often referred to from two (sometimes three) dates of origin. The current Lord Kingsale is referred to as the 36th Lord (using the 1223 numbering system). The town of Kinsale is a fishing village and popular tourist destination found in the area.
The special privilege of the DeCourcy family has endured. Whether legend or fact, this privilege of the DeCourcy family has been exercised, recognized and documented on numerous occasions. The Barons of Kingsale have exercised this right from time to time throughout history, most notably by Americus DeCourcy, 23rd Lord of Kingsale, in 1691 in the presence of King William III and Gerald DeCourcy (in front of King George II about 1750) and again by Lord John DeCourcy in 1821 (George IV).
England's most notable citizens and royals are buried in Westminster Abbey in London. There, inscribed on the large tombstone of Americus DeCourcy, is a statement of the rights of this special privilege, protecting it for as long as history allows. (See Westminster tomb link)
For a period of time the lands south of the Bandon river were referred to as Courcey country.
The Old Head Castle at Kinsale did not survive the centuries of wars. Only a few remnants remain. With the decline in family fortunes and mounting costs of upkeep, the Old Head lands were finally given to the town of Kinsale by the 35th lord in 1986. It is now an ultra-exclusive private golf course, ranked as the Number One "most spectacular course in the world" by Links magazine. Its five-star restaurant is called the DeCourcey dining room and the club holds the prestigious DeCourcey tournament each year with players invited worldwide.
North America
Numerous lines of DeCourcy have spawned from these roots including some who now reside in North America.  The Canadian line stems from the emigration of John DeCourcy (1788-1849) and wife Mary from Kinsale, Cork County in 1823 given a land grant to settle in New Brunswick. Other branches moved on to Ontario and Texas.

Family Motto from Coat of Arms
<![if !vml]>

<![endif]>
"Truth Conquers All Things"
Pictures
<![if !vml]>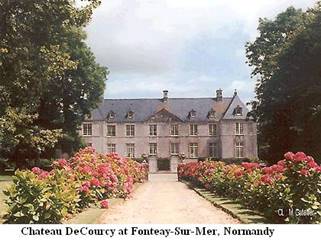 <![endif]>         <![if !vml]>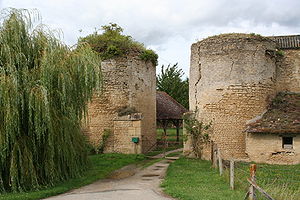 <![endif]> Chateau Courcy – Courcy, Normandy Built 1005 
 <![if !vml]>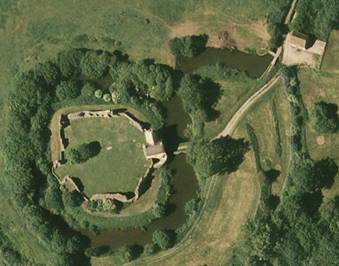 <![endif]>          <![if !vml]>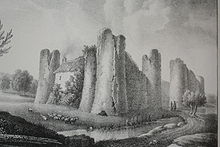 <![endif]>
            Castle remains at Stogursey    built c. 1250                             Chateau DeCourcy – 1826 ruins
            <![if !vml]>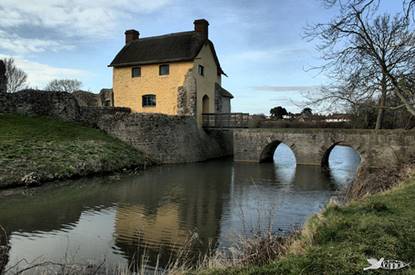 <![endif]>
            Restored Gatehouse at Stogursey Castle
<![if !vml]>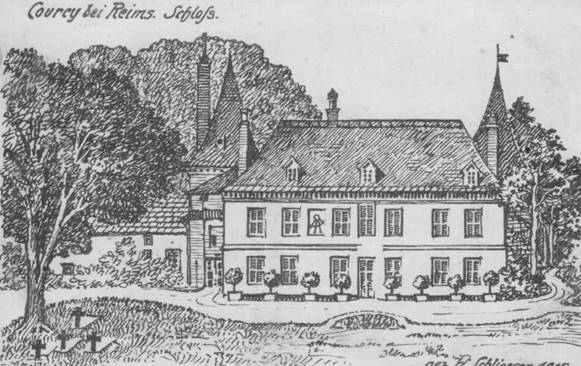 <![endif]>
Chateau Courcy near Reims (rebuilt numerous times – but no longer in existence) This is where the Courcy name was born circa 925
<![if !vml]>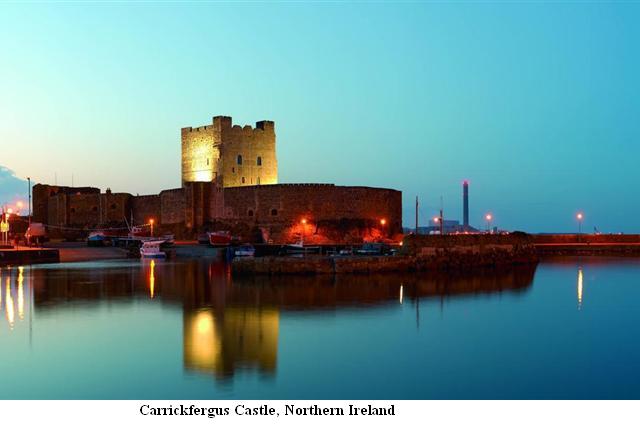 <![endif]>
<![if !vml]>

<![endif]>                                                 <![if !vml]>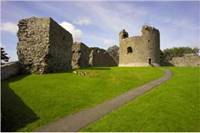 <![endif]>
Tomb of Almericus DeCourcy                        Dundrum Castle  - 1177
Westminster Abbey, London
"Special Privilege" inscribed
<![if !vml]>
<![endif]>
Coat of Arms of
French DeCourcy Line
<![if !vml]>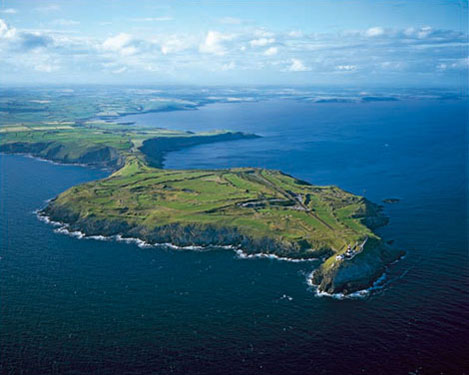 <![endif]> 
Old Head Peninsula: DeCourcy homestead 1223 – 1986
<![if !vml]>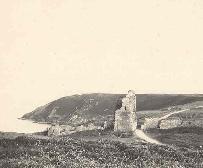 <![endif]>
Remains of Old Head c 1910

<![if !vml]>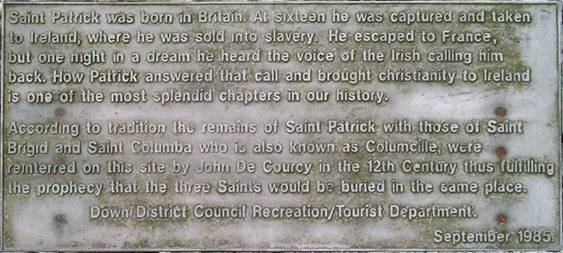 <![endif]>
Saint Patrick Burial Plaque – Downpatrick, UK
Appendix I   DeCourcy Lands and Locations through History
<![if !vml]>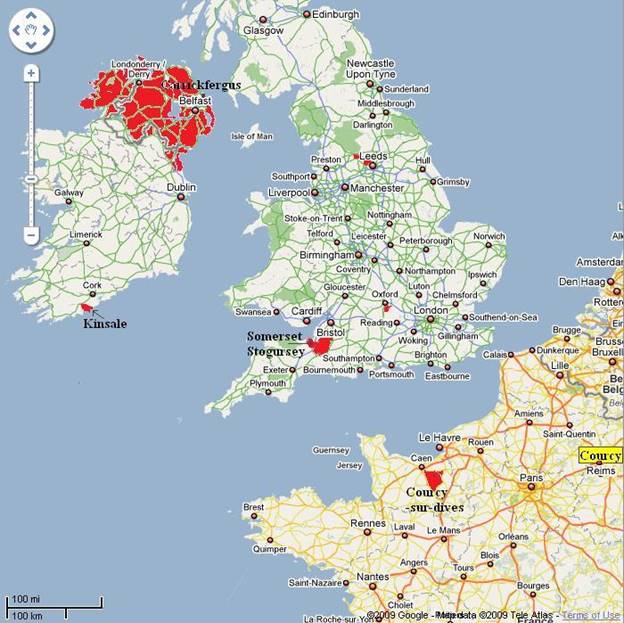 <![endif]>
Appendix II – Caveats
Though there is much documentation of the DeCourcy family as described herein, there are some gaps where the certainty of connections is questioned.
Baldric or Baudry (the Teuton) settled in Normandy about the year 1000. His third son Robert became Lord Courcy and many claim this is the first Courcy. Baldric's heritage is uncertain. The Flanders book (note 1) on DeCourcy claims he was merely an archer drafted by the Duke of Normandy. However, the wealth and titles bestowed upon him and his sons indicates he was far better connected with royalty than a military journeyman. This lends credence to others who directly connect him to Courcy at Reims and to King Charles III of France two generations earlier (or the Duke of Lorraine). This theory puts him as a member of the royal court in France, making him a desirable connection for the Duke and Norman families.
The Flanders book does an excellent job of tracing the DeCourcys from 1000 to 1200 but stops short of connecting John DeCourcy, so called Earl of Ulster, with the Lords of Kingsale. Some sources claim John DeCourcy had no issue and thus there is no connection. Others claim there was a surviving son, Miles (Myles Milo) and it was this Miles (or possibly his son of the same name) that became the first Baron Kingsale. There is also a Patrick DeCourcy living at this time- possibly a brother or intervening generation. Though the connection is not well documented, the timing and circumstances are compelling. (John dies in 1219 and Miles is titled in 1223; all knew the DeCogans well who transferred the property by marriage). Further, there are literally hundreds of references, some dating to earliest times, that the Kingsale Lords are direct descendants of John. Though the connection is not proven, it is almost a certainty.
Spellings of DeCourcy are shown in various formats usually including Courcey, Courci, Coursey, and Curci. There is general agreement that these are all simple variations on the same name and not separate families.
Note 1: Flanders, Steve. DeCourcy.  Four Courts Press, 2008  ISBN 978-1-84682-094-6